War would end if the dead could return!
— Stanley Baldwin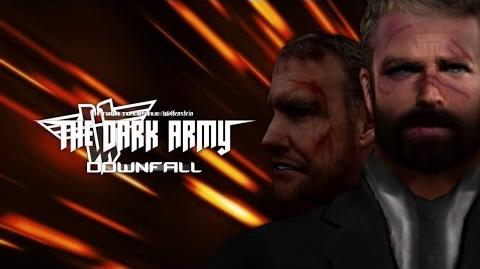 The Dark Army: Downfall, often abbreviated TDA2, is the second half of a two-parts divided single-player standalone modification of Return to Castle Wolfenstein, developed and published by 85 Prøductions, to be released on Microsoft Windows via Mod DB.
When the fate of the Kreisau Circle is at stake, B.J. Blazkowicz is forced to fight alongside Deathshead's dark army, against a common enemy...
N/A
Features
Edit
Even more features will be included in this sequel, thanks to the implementation of an upgraded version of the RealRTCW engine.
Announcement
Edit
On November 19, 2014, the day of the Return to Castle Wolfenstein 13th Anniversary Event and the publication of The Dark Army: Uprising's fourth trailer, the developer announced the core project's division into two different parts. Thus the mod was indirectly revealed on this day, and was yet-to-be titled.
Initial Reveal
Edit
On December 30, 2015, The Dark Army: Uprising got released for the very first time on Mod DB. Before it was removed by the developer for its overhaul, some players had already completed the campaign, which had at its end a short audio teaser that the final version doesn't feature. This audio teaser revealed the title of the mod.
Early Teasing
Edit
On December 20, 2016, the developer published a teaser picture, featuring main character B.J. Blazkowicz facing a brick wall, ahead of the Return to Castle Wolfenstein 15th Anniversary Event. The logo of the mod can be seen on the wall (although it's difficult to see it).
Worldwide Reveal
Edit
On February 1, 2017, the mod was revealed with a short teaser, during the Return to Castle Wolfenstein 15th Anniversary Event, held by the developer on YouTube through a series of trailers of projects related to the original game. If the event had not been delayed, the mod would have been revealed on wether November 19, 2016, or late December.
Original Soundtrack
Edit
On May 21, 2017, it was revealed that the mod will have its own original soundtrack, composed by Charly Jouglet.
N/A
Distribution
Edit
N/A
Reception
Edit
N/A
Development
Edit
According to the developer, the development of the mod was started early December 2016, right after the completion of its prequel, after having been stuck in pre-development stages since late 2014 (when The Dark Army was officially split into two different parts).
Below are the many faces behind the development, as revealed on the official website.
List of the voice actors (in order of appearance, as on the official site).
Modification
Edit
List of the developers/contributors.
| | |
| --- | --- |
| Development | William Faure (aka TITEUF-85) |
| Engine (RealRTCW) | WolfETPlayer |
| Base Engine (iortcw) | Donny Springer (aka M4N4T4RMS) |
| Initial Base Engine (1.42d) | Knightmare |
| Additional Weapons | Alexandre |
| Sound Design | Charly Jouglet (aka djentlemanG) |
| Textures | Eugeny Panikarowsky (aka Eugeny) |
| | Cedric Eeaston (aka KeMon) |
| | Max Boughen (aka MaxTextures) |
| Beta Testing | Mike Smith (aka ronboy) |
| | Vicente Pasquino (aka vicpas) |
| Alpha Testing | Rocket_Warrior85 |
| Software Support | Cezary Szydlik (aka C.Z.R) |
| | Marcin Mirtynski (aka GregorioPoland) |
| External Support | ailmanki |
| | AidenDemon |
| | KatsBits |
TBA